FAQ's
What type of explosives does your company use?
There are no commercially manufactured explosives specifically designed for slag removal. However, our company has worked closely with explosive makers, and after more than five decades of experience, adapted the following products for the safe and effective removal of slag deposits.
Semi Gelatin Dynamite: First developed by Alfred Nobel in 1866, gelatin dynamite is still our choice for removing heavy slag deposits in the firebox of modern boilers. Because of its low detonation velocity and massive release of vapor and gas, it has proven to be safer and more effective than binary and PETN based explosive products.
Detonating Cord: In the primary and secondary superheat/reheat (both vertical and horizontal) and economizer area, where tube spacing is narrow, we use detonating cord as our primary explosive. Detonating cord (Primacord) is a flexible tube containing a center core of high velocity, cap sensitive explosive. It was originally developed for the mining industry as a "down the hole" initiator for other explosives.
Detonators: Both electric and non-electric (Nonel) blasting caps are used in our slag removal process. The determining factor in detonator selection is most often the location and type of product to be removed. Rest assured that our company will use the most efficient and the safest blasting cap for the specific situation regardless of our cost.
Binaries: We will on rare occasion use these products where regulations prohibit the transport of more appropriate products. The high detonation velocities of these ANFO based, two part explosives limits its use to only the heaviest of accumulation in the firebox.
How many employees do you use per shift?
Our standard crew consists of three employees per 12 hour shift. We have found this to be the optimum number for a safe and efficient workplace. Crews are manned as follows:
Job Leader/Blaster in Charge: The shift leader will be licensed and have over 5 years experience in explosive slag removal. He will be responsible for all blasting operations, confined space entry, Lockout Tag Out and record keeping. He will also possess a valid CDL driver's license with hazmat endorsement to allow the safe and legal transport of explosive material.
Primary Blaster:Will have a minimum of one year experience in boiler blasting and will assist the Job Leader in planning and executing shot loading and placement. He will also have access to the magazine (day box) and will assist in explosives security and record keeping.
Assistant Blaster: A general purpose laborer that will assist in moving tools and material, installing lighting in boiler and other jobs as necessary. Like all of our employees he will be CPR and OSHA trained, DOJ background checked and drug tested in the last 90 days.
On occasion, in larger boilers it is possible to employ a "double crew" that would allow blasting in different areas of the boiler concurrently. If you desire more men per shift, a blast plan can be tailored for your needs if it is considered by our company to be safe and cost effective for you.
At what boiler temperature can work begin?
Though we offer on-line blasting in certain areas of the boiler, we assume that you are referring to a safety deslag of the firebox. For remote cleaning through observation ports and manway doors, where boiler entry is not required, cleaning pendants, division panels, walls, burner and overfire air eyebrows etc. blasting can begin with exit gas temperatures at 190 degrees by using a specially designed Hi-Temperature electric blasting cap.
In what areas do you offer explosive cleaning?
With over 5 decades of experience, we have successfully cleaned all areas of the boiler from frozen coal in bunkers and train cars, to turning veins at the stack. Normal areas that require cleaning are:
Boiler Throat and Slag Taps
Cyclones and Burner Eyebrows
Overfire Air Ports (eyebrows)
Waterwalls and Division Panels
Primary and Secondary Superheat Platens (horizontal and vertical)
Primary and Secondary Reheat Platens (horizontal and vertical)
Economizers
Bag houses
Precipitators
Cinder Screens
Duct work
Coal handling equipment
Hoppers (Ash, economizer, precipitator etc.)
Silos
Vessels
Scrubbers (SCR SBA)
Of course this is not an all inclusive list. If you have an area in question, please call our office.
Do you perform other services like hydro blasting, grit/sand blasting, vacuum services, etc?
N.B. Harty Co. offers only explosive blasting services to our customers. We feel that our energies should be spent providing the safest and very best explosive cleaning operation in the industry. You can be certain that the personal on your job are trained and qualified, and not merely manned from other crafts.
What makes your company different from others?
Though our techniques remain a closely guarded trade secret, there are several ways we differ from our competitors, and feel that it is important to mention these differences.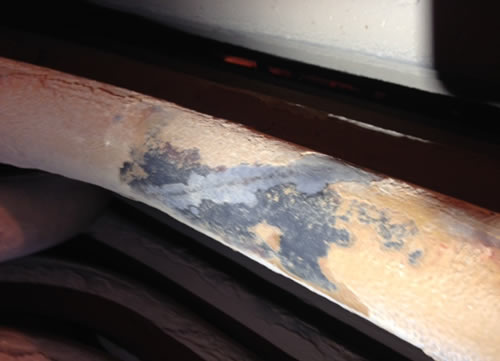 Use of Zip Ties:
Many in the industry insist on the use of zip ties (nylon cable ties) to fasten Primacord directly to the tube when blasting the backpass areas of the boiler. Though it has never been determined that actual tube damage has occurred from the use of zip ties, we feel that it causes undue stress to the tube. The mark that can be seen in the photo is not a dent, but rather fused material that has been explosively welded to the tube surface. For this reason we have established company policy that forbids tying Detonating Cord directly to any tube.
Maximum Load per Delay:
To guard against overpressure in the backpass, we limit all Primacord shots to a maximum of 100 foot per delay in even the largest of boilers. In smaller package units and biomass boilers, we sometimes use as little as 15 feet per delay. Though these numbers seem small to many, we have decided to ere on the side of caution to prevent damage to IK's, boiler cladding and other systems in and around the furnace.